Overview

One of the most common causes of foot and leg discomfort is a condition known as over pronation. Normal pronation, or "turning inward", of the foot is necessary as the foot adapts to the ground. With over pronation, however, the arch flattens, collapses, and soft tissues stretch. This causes the joint surfaces to function at unnatural angles to each other. When this happens, joints that should be stable now become very loose and flexible. At first, over pronation may cause fatigue. As the problem gets worse, strain on the muscles, tendons, and ligaments of the foot and lower leg can cause permanent problems and deformities.


Causes

There are many possible causes for overpronation, but researchers have not yet determined one underlying cause. Hintermann states, Compensatory overpronation may occur for anatomical reasons, such as a tibia vara of 10 degrees or more, forefoot varus, leg length discrepancy, ligamentous laxity, or because of muscular weakness or tightness in the gastrocnemius and soleus muscles. Pronation can be influenced by sources outside of the body as well. Shoes have been shown to significantly influence pronation. Hintermann states that the same person can have different amounts of pronation just by using different running shoes. It is easily possible that the maximal ankle joint eversion movement is 31 degrees for one and 12 degrees for another running shoe.

Symptoms

Overpronation may have secondary effects on the lower legs, such as increased rotation of the tibia, which may result in lower leg or knee problems. Overpronation is usually associated with many overuse injuries in running including medial tibial stress syndrome, or shin splints, and knee pain Individuals with injuries typically have pronation movement that is about two to four degrees greater than that of those with no injuries. Between 40% and 50% of runners who overpronate do not have overuse injuries. This suggests that although pronation may have an effect on certain injuries, it is not the only factor influencing their development.

Diagnosis

If you have flat feet or low arches, chances are you overpronate. Although not always the case, the lower your arches the greater the overpronate. Stand on a hard surface (in front of a mirror if you need to) and look at your feet, flat feet or low arches are easy to spot. If your feet look flatter than a pancake, have a look at your ankles and see if they seem collapsed or straight. If they are, you're overpronating.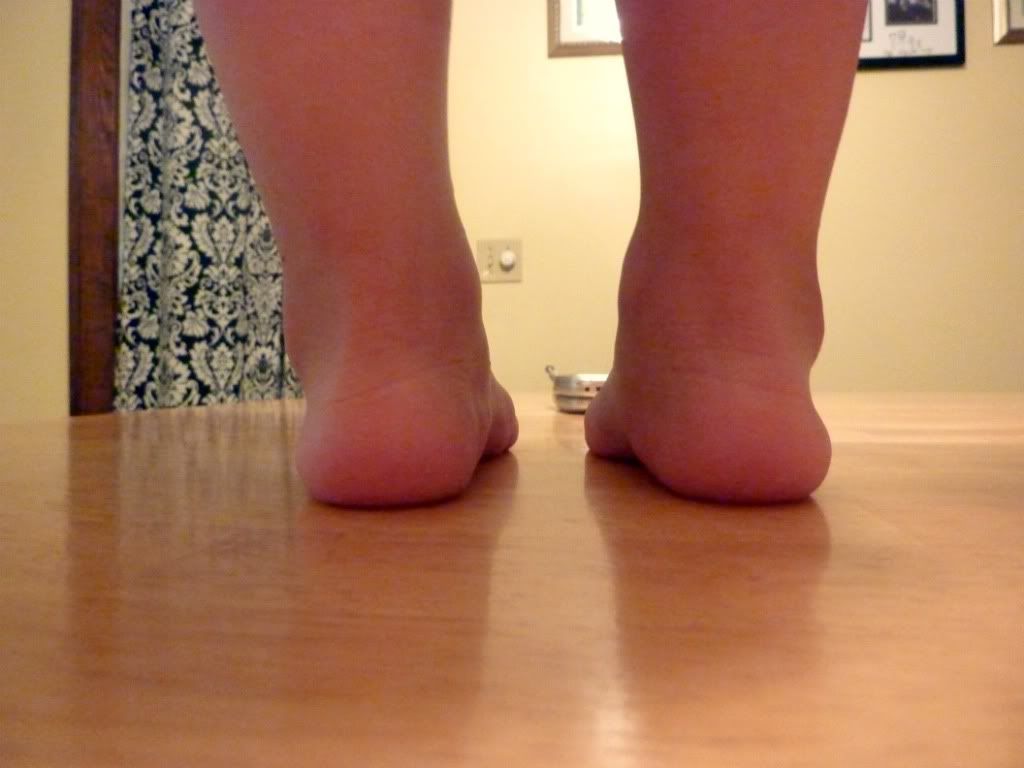 Non Surgical Treatment

If pronation is diagnosed before the age of five it can usually be treated in such a manner that the bones and joints will be aligned properly as growth continues. This may prevent the arch from collapsing, as well as allowing the muscles of the leg to enter the foot without twisting. With proper and early treatment, the foot will not turn out at the ankle, and the child?s gait will improve. Treatment for pronation in children may include: night braces, custom-made orthotics, and exercises. These treatments usually continue until growth is complete, and then the adult may need to wear custom-made orthotics to prevent the pronation from returning (the foot, as every other part of our body, tends to return to its original form if preventive measures are not taken). One side note: frequently, pediatricians will wait too long, hoping that the child will ?outgrow? the problem. By the time they realize that the child?s feet will not improve, it is too late to change the foot. In these cases, custom-made orthotics is used to prevent the pronation from becoming worse.

Surgical Treatment

Hyperpronation can only be properly corrected by internally stabilizing the ankle bone on the hindfoot bones. Several options are available. Extra-Osseous TaloTarsal Stabilization (EOTTS) There are two types of EOTTS procedures. Both are minimally invasive with no cutting or screwing into bone, and therefore have relatively short recovery times. Both are fully reversible should complications arise, such as intolerance to the correction or prolonged pain. However, the risks/benefits and potential candidates vary. Subtalar Arthroereisis. An implant is pushed into the foot to block the excessive motion of the ankle bone. Generally only used in pediatric patients and in combination with other procedures, such as tendon lengthening. Reported removal rates vary from 38% - 100%, depending on manufacturer. HyProCure Implant. A stent is placed into a naturally occurring space between the ankle bone and the heel bone/midfoot bone. The stent realigns the surfaces of the bones, allowing normal joint function. Generally tolerated in both pediatric and adult patients, with or without adjunct soft tissue procedures. Reported removal rates, published in scientific journals vary from 1%-6%.